About the Author

Barbara Altemus was born in Los Angeles, California in 1949. Ms. Altemus holds Master's degrees in both Psychology and Latin American Studies. She is a Phi Beta Kappa scholar who has taught at Antioch University and Pacific Oaks College.

For over 15 years the Barbara has worked with at-risk youth and has taught at inner-city high schools in Los Angeles, working with gangs, drug addiction and suicide prevention.

She has worked in the healing arts for over 25 years, studying alternative approaches to healing while traveling throughout Mexico, Central America, and South America, as well as Native American reservations in the US. She has studied extensively with Native American Medicine People, and is also trained in the fields of nutrition, energetic hands-on-healing, herbology, mind-spirit treatment and other alternative healing modalities.

Barbara is fluent in Spanish and Portuguese. As a Fulbright Scholar in Brazil, she helped to bring a voice to the voiceless by becoming an advocate for people living in favelas, otherwise referred to as squatter settlements. As an advocate for peace, she has participated in human and land rights movements, in addition to working with indigenous people on their native lands. As an active participant in the international peace movement, Barbara was asked by Rigoberta Menchu Tum, Nobel Peace Prize winner from Guatemala, to be her interpreter and translator at the Indigeneous People's Tribunal in Davis, California in 1980.

She also has participated in numerous Native American Elder's gatherings addressing the destruction of the environment, and she has worked with members of the National Lawyer's Guild and the American Civil Liberties Union (ACLU) addressing human right's violations in the US and throughout the world. In 1973 she assisted the family of slain President Salvador Allende to secure political asylum outside of Chile, and throughout the 80's she has helped to organize concerts with music and themes addressing human rights violations in Latin America.
In the 1990's Barbara has participated in numerous Native Hawaiian and Native American Elder's Gatherings. She has worked closely with Reverend Michael Beckwith at Agape Center for Truth addressing peace issues.
She has also worked closely with Chief Arvol Looking Horse, spiritual leader of the Lakota,Dakota,Nakota (Sioux) Nation and Keeper of their Sacred Bundle, and has met with His Holiness the Dalai Lama on behalf of the gathering.
In 1999 Barbara was invited to the Parliament of the World's Religions in Capetown, South Africa, and was asked to give a workshop based on her (then) upcoming book, "The Gift of Pain, Transforming Hurt into Healing." She also served as the interpreter and translator for the Mayan spiritual leader, Juana Vasquez de Arcon, who spoke on behalf of Nobel Peace Prize Laurette RIgoberta Menchu Tum, at this gathering.
In 2002 Barbara worked closely with Chief Looking Horse and Ela Gandhi, granddaughter of Mahatma Gandhi, in organizing World Peace and Prayer Day in Durban. South Africa. She was part of the World Peace and Prayer Day Delegation invited to South Africa.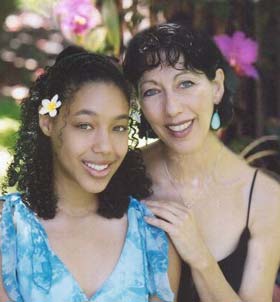 Today Barbara continues to advocate for peace. She is a co-creator of the We Are One Foundation, weareonefoundation.org and is the visionary, writer and producer of the feature documentary, THE CALLING: Heal Ourselves, Heal Our Planet, directed by Oscar nominated filmmaker William Gazecki (film currenty in production). Barbara is an individual and family therapist, life coach, poet, writer and mother to Imani.